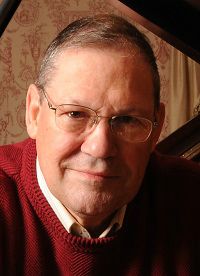 We are sad to inform you that Dale A. Howe, President and Co-Owner, of Frederick Johnson Pianos has passed away unexpectedly. His passing is a significant loss to the business, to us personally and to his many colleagues, customers and friends whom he so very much enjoyed sharing his passion for pianos and music.
Dale Ainsworth Howe, 75, died October 18, 2016 at Dartmouth Hitchcock Medical Center with his wife Nancy and daughters Julie and Melissa by his side. His love of family, both immediate and extended, were always a great source of joy and pride to him.
Dale was born April 4, 1941 in Randolph, VT, a second son to John and Shirley (Ainsworth) Howe. He grew up on the Howe dairy farms in Tunbridge, VT and graduated from South Royalton High School. Although he grew up baling hay, he spent his free time playing music. In 1964, he received his degree in Agriculture Economics from the University of Vermont yet chose to pursue his lifelong love of music when he attended the North Bennett Street School in Boston and received a certificate of Piano Technology.
Dale began tuning pianos for Frederick Johnson Pianos, Inc. of Norwich, VT in 1965 and became a partner in the business when it moved to White River Jct., VT in 1972. As President and co-owner he enjoyed the business of piano sales and service as well as interacting with musicians and customers, many of whom he had maintained a long term relationship. He was a Registered Piano Technician, an earned title granted by the Piano Technicians Guild and was a member of the Vermont Piano Technicians Guild. As a concert tuner he was proud to provide a Steinway Concert Grand Piano and tune it for many big name performers throughout Northern New England, including popular artists such as Count Basie, Ella Fitzgerald, Ray Charles and Dolly Parton.
In addition to tuning, Dale played the piano and performed in various venues. He also took pleasure in playing for family, friends and customers. As a talented musician, he could play a variety of instruments. While piano was his main instrument he also enjoyed playing his saxophones in several big bands, most recently the Moonlighters of Hartland. As an avid collector of music memorabilia, he has amassed an impressive collection of old sheet music, books, and autographed programs and posters.
On August 13, 1966, Dale married Nancy Fuller in Tunbridge, VT. They moved to White River Jct., VT where they continued to live and raise their family. Dale was steadfast in his love of family. He and Nancy recently celebrated 50 years of marriage. He was proud of each of his daughters and dearly loved spending time with his twin grandsons, Alex and Ryan. In turn his family dearly loved him and is grateful for his many years of love and support.
Dale maintained a deep connection to his hometown of Tunbridge, its land and its people. With a keen interest in genealogy he enjoyed researching family connections. He always took time to visit with extended family, friends and customers. He loved telling stories, discussing family connections and sharing music trivia. He was quick with a story, joke or anecdote. He especially enjoyed his time at the family camp and pond. Dale was also known for his numerous collections, puzzles, bargains, wit and unique use of language. He had a special way with cats and loved his own cats dearly.
Some of Dale's best memories of UVM revolved around Phi Delta Theta and he maintained connections with a number of fraternity brothers. Dale was a Shareholder and past Director of the Tunbridge World's Fair where he most recently was Stage Manager and on the Entertainment Committee. As a Mason, he was a member and Past Master of Rising Sun Lodge of South Royalton, where he recently received his 50 year pin. He was also affiliated with many other Masonic Orders including Mt Sinai Shriners Temple #3. Previously, he was a member of the Vermont Army National Guard where he also played in the 40th Army Band.
Dale is survived by his wife Nancy of White River Jct., daughters Julie Howe of New York City and Melissa H. Pitts, her husband Jeff and their sons Alex and Ryan of Nazareth, PA. He is also survived by his sister Karen Davies (Fred Krhut) of Fairhope, AL, his brother Timothy James Howe (Linda) of Williston, VT, as well as aunts, an uncle, and many cousins, nieces and nephews. He was predeceased by his parents, brothers David Howe and most recently, Dean Howe.
Services will be held on Saturday, November 5th at 11:00 a.m. at the Tunbridge Church in Tunbridge Village with fellowship to follow in the Town Hall. There are no calling hours and a family graveside service will be held at a later time. In lieu of flowers, memorial donations may be made to the Shriners Hospital for Children of Philadelphia in honor of Alex Pitts, 3551 N Broad St, Philadelphia, PA 19140 or to a Humane Society of your choice.
Boardway & Cilley Inc. Funeral Home is assisting with arrangements. On-line condolences may be shared at www.boardwayandcilley.com.